Deep Ocean Mission
The Cabinet Committee on Economic Affairs has endorsed the proposition of Ministry of Earth Sciences (MoES) on "Deep Ocean Mission".
The assessed cost of the Mission will be Rs. 4077 crore for a time of 5 years to be executed in a phase-wise method.
The five-year inter-ministerial and inter-departmental mission will bring together researchers and experts from the Indian Space Research Organisation, Defence Development and Research Organisation, Department of Atomic Energy, Council of Scientific and Industrial Research, Department of Biotechnology and the Indian Navy.
This is to explore deep ocean for resources and develop deep sea technologies for sustainable use of ocean resources.
Deep Ocean Mission with be a mission mode task to help the Blue Economy Initiatives of the Government of India.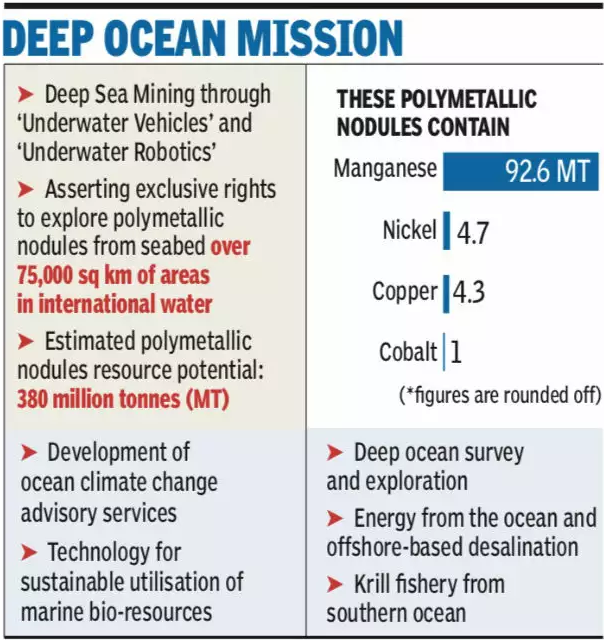 The Deep Ocean Mission icludes
1. Developing systems for deepsea mining, launching a manned submersible
A Submersible will be created to carry three individuals to a depth of 6000 meters in the sea with set-up of logical sensors and devices.
 In manned submersibles, only five countries have been successful.
This segment will help the Blue Economy priority area of exploring and harnessing of deep sea minerals and energy.

2. Development of Ocean Climate Change Advisory Services:
A set-up of perceptions and models will be created to give future projections of significant environment factors on occasional to decadal time scales.
This segment will uphold the Blue Economy priority area of coastal tourism.
3. Technological advancements for exploration and protection of remote ocean biodiversity:
Bioprospecting is the systematic search for biochemical and genetic information in nature in order to develop commercially valuable products for pharmaceutical, agricultural, cosmetic and other applications.
Bio-prospecting of deep sea flora and fauna including microbes will be the main focus.
This component will support the Blue Economy priority area of Marine Fisheries and allied services.
4. Deep Ocean Survey and Exploration:
The important target of this part is to explore and distinguish multi-metal Hydrothermal Sulfides mineralization along the Indian Ocean mid-maritime edges.
Hydrothermal sulphides are like underwater volcanos, in which heavy minerals are deposited, including rare earth elements like gold and platinum.
This segment will furthermore uphold the Blue Economy priority area of deep sea exploration of ocean resources.
5. Energy and freshwater from the Ocean:
Studies and detailed designing plan for seaward desalination plant.
This segment will uphold the Blue Economy area of off-shore energy development.
6. Advanced Marine Station for Ocean Biology:
This component is aimed as development of human capacity and enterprise in ocean biology and engineering.
This component will translate research into industrial application and product development through on-site business incubator facilities.
This component will support the Blue Economy priority area of Marine Biology, Blue trade and Blue manufacturing.
The advancements needed for Deep ocean mining have strategic implications and are not industrially accessible. Henceforth, we will be made to indigenise advancements by collaboration with driving institutes and private ventures. A research vessel for deep ocean exploration would be built in an Indian shipyard which would create employment opportunities. Moreover, design, development and fabrication of specialized equipment, ships and setting up of required infrastructure are expected to spur the growth of the Indian industry, especially the MSME and Start-ups.