How to write Essay for UPSC?
In the UPSC Mains Essay Paper, candidates must attempt two essays with a word limit of 1000-1200 words each. The essay is divided into two sections and in each section one of four topics can be chosen. The Essay Paper has a total of 250 marks and a one essay has 125 marks. In contrast to GS, Essay are not graded purely in terms of content, but also the language, coherence and the way you structure your essay.
Read the topic carefully,
This is the most important step in the process. You have to choose one of the four topics. When choosing your topic, make sure you know more about that topic from the topics listed. what not to pick:
A sensitive or controversial topic like intolerence.
A subject that you are passionate about. In this case, you may tend to get excited and not write a balanced essay. This can work against you.
Brainstorming for essay writing
Essay Brainstorming is a critical step. Brainstorming helps you gather all of your ideas in one place for quick reference. There are no hard and fast rules, but usually you can start with the given topic and immediately start listing the things that come to mind. Ideally, you can devote a whole page to this exercise.
How to structure your essay?
A good introduction: A good way to start your essay is to add a touch of humanity and warmth to your presentation. This can be done by:
→ a fictional incident or story (with a character);
→ an anecdote from real life; or
→ a quote.
Smooth transition between two paragraphs: The candidate must maintain a temperament throughout the essay. An unexpected jump from topic to topic leaves a poor reading experience that is reflected in the final grades. For a smooth transition, you can end the last paragraph with an interlinking line above the next paragraph. Another option is to add a question at the end of a paragraph so that the examiner's attention is helplessly drawn to the next.
 Main Body: In the body of the essay, each paragraph should contain an argument or idea and a rationale that supports that argument. You can prove this with a real-life example, statistic, an authentic committee or organizational report, and so on. For example, if you argue that a death penalty is an expensive form of justice, you should be able to provide an example or statistic or the opinion of the Justice Commission that the death penalty comes predominantly from poor communities. 
Statistics, examples, expert opinions and constitutional provisions are crucial and make your arguments credible.
360-degree approach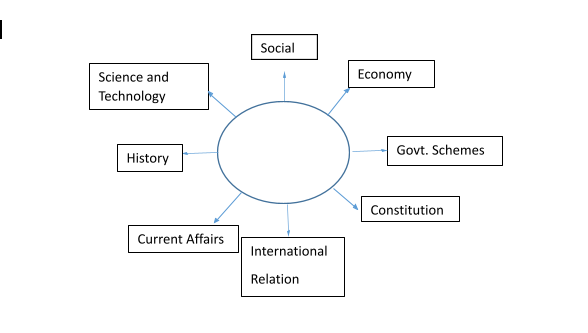 Conclusion: The conclusion of the essay should be futuristic and optimistic. Conclude your essay with a vision statement. If you have introduced a fictional character, it is always advisable to end the write-up with a reference to this character. It gives the essay a sense of completeness.